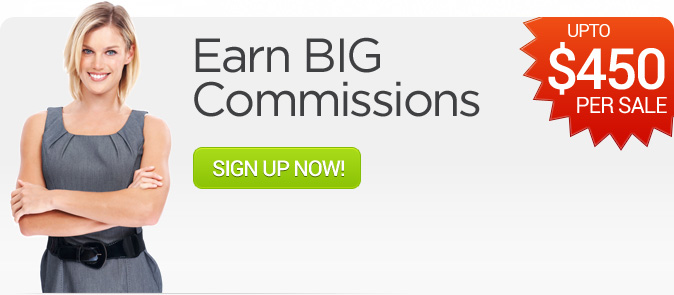 Becoming an Affiliate is easy, profitable & FREE
We'll provide you with everything you need. You drive the visitors and we take care of the rest.
| Product | Commissions Per Sale * |
| --- | --- |
| Web Hosting | 70% |
| Email Hosting | 70% |
| Do-It-Yourself Website Builder Tool | 70% |
| Digital Certificate | 25% |
| Domain Registration | 20% |
| Reseller Hosting | 50% |
Affiliate Program Master Agreement
Parties to this Agreement

This Master Agreement (hereinafter referred to as the "Agreement") is made, entered into and executed TODAY (hereinafter referred to as the "Effective Date")

BETWEEN: -

P.D.R Solutions FZC d/b/a BigRock Solutions Private Limited, an Indian Private Limited company, with its principal place of business located at PO Box No #16113, F/19, Business Center 1, Ras Al Khaimah FTZ,Ras Al Khaimah, United Arab Emirates (hereinafter referred to as BigRock) AND YOU (hereinafter referred to as "Affiliate"). If you are entering into this Agreement on behalf of a company or other legal entity, you represent that you have the authority to bind such entity to these terms and conditions, in which case the term "Affiliate" shall refer to such entity

(BigRock and the Affiliate may be referred to individually as a "Party" and collectively as the "Parties").

WHEREAS BigRock provides web-products & services including but not limited to domain registration, email & web-hosting, website builder, web-design, digital certificates, managed DNS and communication & collaboration apps.

AND WHEREAS Affiliate wants to provide BigRock Products (defined hereinafter) to its customers

NOW, THEREFORE, for and in consideration of the mutual promises, benefits and covenants contained herein and for other good and valuable consideration, the receipt, adequacy and sufficiency of which are hereby acknowledged, BigRock and the Affiliate, intending to be legally bound, hereby agree as follows:
Definitions

"Affiliate", in relation to a Person, shall mean any Person which controls, is controlled by, or is under the common control of that Party.

"Affiliate Website" refers to any web based interface where an affiliate will establish BigRock links and banners.

"Affiliate Lead" refers to an Affiliate customer that places a BigRock Order.

"Agreement" refers to this Affiliate Partnership Program Master Agreement alongwith all its appendices, extensions and amendments at any given point in time.

"BigRock Database" is the collection of data elements stored on BigRocks Servers.

"BigRock Order" refers to purchase of a BigRock Product by an Affiliate Lead, through the Affiliate Website, having a unique order ID in BigRocks Database.

"BigRock Products" refer to all products and services of BigRock which Affiliate wishes to offer to Affiliate Leads.

"BigRock Servers" refer to machines / servers that BigRock or any of its Service Providers maintain to fulfill services and operations.

"Business Day" refers to a working day between Mondays to Friday excluding all Public Holidays in India. Business Day shall become applicable only for issuing and accepting notice, if any, from either party and not for answering or attending to any service/support or maintenance related issues.

"Confidential Information", as used in this Agreement shall mean all data, information and materials including, without limitation, computer software, data, information, databases, protocols, reference implementation, documentation, functional and interface specifications, customer, pricing, marketing and/or other information related to the subject matter of this Agreement provided by either Party to the other Party under this Agreement, whether written, transmitted, oral, through either Partys Website or otherwise, that is marked as Confidential.

"Control" means the possession or ownership by a Person or a group of Persons acting in concert, directly or indirectly, of more than 50% of the voting securities of another Person. The terms "Controlling", "Controlled by" or "under common Control" shall be construed accordingly

"Holding Period" in relation to commission payout refers to the duration of time for which the affiliate commission payout is held back by BigRock to cover for cancellations/reversals/chargebacks/refunds/money back guarantees etc

"Person" means and includes an individual, partnership, corporation, company, unincorporated organization or association, trust or other entity, whether incorporated or not.

"Signup Date" in relation to an Affiliate Lead refers to the date on which such Affiliate Lead purchases its first BigRock Order.

"Service Providers" refers individually and collectively to any Persons that BigRock or its Service Providers (recursively) may, directly or indirectly, engage / employ / outsource / contract for the fulfillment / provision / purchase of BigRock Products and any other services and operations of BigRock.

"Unique Affiliate URL" refers to the BigRock website with a unique ID tagged to each individual affiliate
Obligations of BigRock

BigRock grants Affiliates a non-exclusive license to sell BigRock Products via the unique Affiliate URL to Affiliate Leads for the Term of this Agreement.

BigRock will share this Agreement electronically with Affiliate and Affiliate will send his/her acceptance electronically to BigRock.

BigRock will provide collateral such as creatives, html code for various banners, etc. in electronic format to affiliates.

BigRock may issue electronic promo coupons for specific offers that it may run from time-to-time. Affiliates may promote only these offers to Affiliate Leads.

BigRock will provide Affiliate with a unique affiliate URL, banners, creatives etc. Affiliate may post this link, banners, HTML code in any location, as many times as it likes, subject to the terms of this Agreement.

BigRock agrees to track Affiliate Leads referred from the unique Affiliate URL. BigRock will pay the affiliate a commission for each such referral made in compliance with this agreement pursuant to the commission schedule and the terms set forth in this affiliate agreement.

BigRock agrees to provide a web based interface to track the BigRock Orders placed by Affiliate leads based on which, commission earned by Affiliate will be calculated.

BigRock shall be responsible for providing sales, technical support, and customer service to affiliate leads via phone, email and live-chat.

Upon acceptance of the Terms of this agreement, BigRock would provision the unique affiliate URL. Affiliate may post this link in any location, as many times subject to the terms of this agreement.
Obligations of the Affiliate

On completion of the sign up process, Affiliate agrees to electronically accept the Terms & Conditions of this Agreement. The terms of this agreement would be binding on the affiliate from the time of signup till termination.

Affiliate shall be responsible for referring Affiliate Leads to the unique affiliate URL.

BigRock grants the affiliate a revocable, non-exclusive, worldwide License to refer Affiliate Leads to the unique affiliate URL - for the sole purpose of accomplishing the purpose and intent of this affiliate agreement. An affiliate may also use the links and images located in the Banners and Links section prepared specifically for that purpose subject to the terms and conditions of this Agreement. An affiliate may not otherwise use, copy, distribute, change, modify, or otherwise alter any such property. This License is neither assignable nor transferable.

Affiliate will make best efforts to effectively market BigRock Products to Affiliate Leads, and fulfill all obligations related to any mutually agreed upon marketing programs.

Affiliate agrees to notify BigRock if the unique Affiliate URL ceases to function or ceases to function properly.

Affiliate agrees that this agreement may be amended by BigRock at any time without notice. Affiliate agrees to keep advised of any changes to this agreement by checking the BigRock web site on a periodic basis.

Affiliate agrees that in the course of any performance under this agreement or otherwise with respect to any dealings between the Affiliate and BigRock - the Affiliate will not use or otherwise permit the use of unsolicited commercial email (a.k.a. SPAM) in relation to the BigRock Affiliate Program.

Each affiliate is entitled to only one affiliate account, affiliates who are found with multiple accounts will result in deletion of the account with the least accrued balance.
Commissions

Commission will be shared with Affiliate only on those BigRock products which have been purchased by Affiliate Leads after being referred to the unique Affiliate URL. Additionally, commission is payable only on purchases made by Affiliate Leads (from the unique Affiliate URL or the BigRock website) within 60 days (Tracking Period) of signup of Affiliate Lead on the unique Affiliate URL.

Commission will be awarded on a last click basis i.e. if an Affiliate Lead clicks on any other unique Affiliate URL (not controlled by You) during the Tracking Period, then You will not be eligible for commission on purchases made by that Affiliate Lead.

Holding Period - Commission payouts to Affiliates for product purchases by Affiliate leads would be held back for 45 days to cover for cancellations/reversals/chargebacks/refunds/money back guarantees etc

Qualified Commission - Revenue accrued and received by BigRock from an Affiliate Lead, towards a BigRock Order less any chargebacks, reversals, refunds, debits, fraudulent transactions and indirect taxes, within the Tracking Period will be treated as Qualified Revenue. Commission will be calculated on Qualified Revenue & paid out to the affiliate after the Holding Period. Purchases made by Affiliate leads over the telephone with BigRock telesales representatives would not be considered as qualified revenue.

Payment Date - BigRock will pay all Qualified Commissions to the Affiliate on or before the 25th of the month following the date upon which the commission becomes a Qualified Commission. Commissions will be paid via, PayPal.

Minimum payout - Commission payments will be made by BigRock to an Affiliate only if the minimum monthly commission accrued is $50. If the commission amount accrued is less than $50 in a month, then the commission will get carried forward to the subsequent month & get paid out with the next months commission.

Coupon Usage - Commission accrued to an affiliate will reduce in proportion to discount in the event of coupon usage by an Affiliate Lead.

BigRock agrees to notify Affiliate by email of any change in Commission structure that may be required from time to time.

No Internal Sales - Affiliate will not earn commissions on transactions made using their affiliate username. purchases made through Your own account.

The BigRock Affiliate Program is meant strictly for individuals/companies who refer new customers to BigRock using approved marketing methods. Affiliates who abuse the affiliate program by purchasing products for themselves will not be eligible for earning commissions on such sales.
For Example: Domainers are explicitly disallowed from making purchases through their Affiliate account and gaining commissions on the same.
Representation & Warranties

Both Parties represent and warrant that they each have all requisite power and authority to execute, deliver and perform their obligations under this Agreement and that this Agreement has been duly and validly executed and delivered and constitutes a legal, valid and binding obligation, enforceable against either Party in accordance with its terms.
Rights of BigRock and Affiliate

Affiliate agrees that BigRock at its own sole discretion can at any point of time with reasonable notification temporarily or permanently cease to make a Product available through the unique Affiliate URL.

BigRock in its sole discretion can change the pricing and discounts of BigRock Products at anytime.

BigRock will independently enter into a separate agreement (BigRock Terms) with each Affiliate Lead, and the terms of each BigRock Order will be governed by the terms of this agreement. Affiliate confirms and acknowledges that BigRock will not be liable to the affiliate for any actions carried out by BigRock in accordance with BigRock Terms.

BigRock in its sole discretion, without notice, expressly reserves the right to fix any bugs in, modify, upgrade, freeze the Unique Affiliate URL and BigRock Products. BigRock in its sole discretion, without notice, expressly reserves the right to modify the content on any page within the Unique Affiliate URL and associated product interfaces. Affiliate acknowledges that actions described in this paragraph may occur without notification or knowledge of the Affiliate. BigRock will not be held responsible or liable for any such changes under any circumstance.
Termination of Agreement

Either Party may terminate this Agreement at any time by providing a written or electronic notice to the other party. In case of special scenarios termination is as follows-

with immediate effect, by giving written notice of the same, if the other Party is adjudged insolvent or bankrupt, or if proceedings are instituted by or against a Party seeking relief, reorganization or arrangement or compromise or settlement under any laws relating to insolvency, or seeking any assignment for the benefit of creditors, or seeking the appointment of a receiver, liquidator or trustee of a Party's property or assets or the liquidation, dissolution or winding up of a Party's Business.

with immediate effect by giving written notice, in the event that the either party or an Agent / Employee / Authorized Representative of either party breaches any term of this Agreement, including any of its representations, warranties, covenants and agreements hereunder and has failed to cure such breach in all respects within thirty (30) days of being provided with notice of such breach.

Any commission that has become payable by either Party to the other Party as per this Agreement, as of the date of such termination shall be paid forthwith upon termination. If this Agreement is terminated because an Affiliate has violated the terms of the Agreement than the Affiliate is not eligible to receive any commissions payments, even for commissions earned prior to the date of termination.

Neither Party shall be liable to the other for damages of any sort resulting solely from terminating this Agreement in accordance with its terms, unless specified otherwise.
Limitation of Liability

IN NO EVENT WILL BIGROCK BE LIABLE TO THE AFFILIATE FOR ANY SPECIAL, INDIRECT, ANCILLARY, INCIDENTAL, PUNITIVE, EXEMPLARY OR CONSEQUENTIAL DAMAGES, OR ANY DAMAGES RESULTING FROM LOSS OF PROFITS, ARISING OUT OF OR IN CONNECTION WITH THIS AGREEMENT AND ALL ITS APPENDICES, EVEN IF THE AFFILIATE HAS BEEN ADVISED OF THE POSSIBILITY OF SUCH DAMAGES.

BIGROCK FURTHER DISCLAIMS ANY AND ALL LOSSES OR LIABILITIES RESULTING FROM, BUT NOT LIMITED TO (i) UNAUTHORIZED USE OR MISUSE OF AFFILIATE WEBSITE OR ANY PRODUCT INTERFACES, (ii) FORCE MAJEURE EVENTS (iii) ACCESS DELAYS OR ACCESS INTERRUPTIONS (iv) NON-DELIVERY OF DATA OR DATA MIS-DELIVERY (v) THE INTERRUPTION OF SERVICE.

BOTH PARTIES ACKNOWLEDGE THAT THE CONSIDERATION AGREED UPON BY THE PARTIES IS BASED IN PART UPON THESE LIMITATIONS, AND THAT THESE LIMITATIONS WILL APPLY NOTWITHSTANDING ANY FAILURE OF ESSENTIAL PURPOSE OF ANY REMEDY.
Indemnification

Affiliate, at his/her own expense, will indemnify, defend and hold harmless, BigRock and its employees, directors, officers, representatives, agents and partners, against any claim, suit, action, or other proceeding brought against BigRock based on or arising from any claim or alleged claim:-

arising out of any breach by the Affiliate of this Agreement.

relating to any product or service of BigRock.

relating to any actions of the Affiliate, or the Affiliates Affiliates, employees, contractees, agents, customers and partners.

relating to any agreement and terms and conditions with any customer of the Affiliate.

relating to the Affiliates business, including, but not limited to, the advertising, application process, systems and other processes, fees charged, billing practices and customer services provided.

relating to any action of BigRock as permitted by this Agreement.

Indemnifiable claims will not include any claim arising from any actions of BigRock that are not permitted under this Agreement, or any claim arising from any breach of this Agreement by BigRock.

BigRock will not enter into any settlement or compromise of any such indemnifiable claim without the Affiliates prior written consent, which shall not be unreasonably withheld.

The Affiliate will pay any and all costs, damages, and expenses, including, but not limited to, actual attorneys' fees and costs awarded against or otherwise incurred by BigRock in connection with or arising from any such indemnifiable claim, suit, action or proceeding.
Intellectual Property & Employment

Subject to the provisions of this Agreement, each Party will continue to independently own his/her/its intellectual property, including all patents, trademarks, trade names, domain names, service marks, copyrights, trade secrets, proprietary processes and all other forms of intellectual property. Any improvements to existing intellectual property will continue to be owned by the Party already holding such intellectual property.

Without limiting the generality of the foregoing, no commercial use rights or any licenses under any patent, patent application, copyright, trademark, know-how, trade secret, or any other intellectual proprietary rights are granted by either party to the other party, or by any disclosure of any Confidential Information under this Agreement.

Affiliate agrees that in the course of any performance under this agreement or otherwise with respect to any dealings between the Affiliate & BigRock the affiliate will not infringe on any third party's copyright, patent, trademark, trade secret or other proprietary rights or right of publicity or privacy.
Rights & Use of Data

Affiliate agrees and acknowledges that except for any limitations described in this Agreement, BigRock has full and exclusive rights, title and interests worldwide in the Affiliate Website & associated product interfaces, and all data, information and derivative works in/generated from the same.
Delays or Omissions; Waivers

No failure on the part of any Party to exercise any power, right, privilege or remedy under this Agreement, and no delay on the part of any Party in exercising any power, right, privilege or remedy under this Agreement, shall operate as a waiver of such power, right, privilege or remedy; and no single or partial exercise or waiver of any such power, right, privilege or remedy shall preclude any other or further exercise thereof or of any other power, right, privilege or remedy.

No Party shall be deemed to have waived any claim arising out of this Agreement, or any power, right, privilege or remedy under this Agreement, unless the waiver of such claim, power, right, privilege or remedy is expressly set forth in a written instrument duly executed and delivered on behalf of such Party; and any such waiver shall not be applicable or have any effect except in the specific instance in which it is given.

No waiver of any of the provisions of this Agreement shall be deemed to constitute a waiver of any other provision (whether or not similar), nor shall such waiver constitute a waiver or continuing waiver unless otherwise expressly provided in writing duly executed and delivered.
Confidentiality

All Confidential Information shall be governed by the Confidentiality Agreement as attached in Appendix A.
Publicity

Other than the marketing collateral such as creatives, HTML etc created by BigRock the Affiliate shall not create, publish, distribute, or permit any written / oral / electronic material that makes reference to BigRock or BigRocks Service Providers or use any of BigRocks registered Trademarks / Service Marks or BigRocks Service Providers registered Trademarks / Service Marks without first submitting such material to BigRock and BigRocks Service Providers and receiving prior written consent.

The Affiliate gives BigRock the right to recommend / suggest the Affiliates name and details to Customers / Prospective Customers and use the Affiliates name in marketing / promotional material with regards to its Products & Services. BigRock acknowledges that such usage of Affiliates name will be in good faith, and BigRock will not intentionally cause harm to Affiliates reputation or image by such use.

PPC & online advertising are deemed as acceptable publicity avenues as per the terms of this Affiliate agreement as long as BigRock trademark terms are not used. Examples of BigRock trademarked keywords include but not limited to BigRock Domains & BigRock Hosting etc. The goal of our guidelines regarding pay-per-click advertisements is to preserve the integrity of the BigRock brand name and reputation. We do not want affiliates, or for that matter, any third party, representing themselves as BigRock or presenting themselves in a way that could be confused with BigRock.
Force Majeure

Neither party shall be liable to the other for any loss or damage resulting from any cause beyond its reasonable control (a "Force Majeure Event") including, but not limited to, insurrection or civil disorder, riot, war or military operations, national or local emergency, acts or directives or omissions of government or other competent authority, compliance with any statutory obligation or executive order, strike, lock-out, work stoppage, industrial disputes of any kind (whether or not involving either party's employees), any Act of God, fire, lightning, explosion, flood, earthquake, eruption of volcano, storm, subsidence, weather of exceptional severity, equipment or facilities breakages / shortages which are being experienced by providers of telecommunications services generally, or other similar force beyond such Party's reasonable control, and acts or omissions of persons for whom neither party is responsible. Upon occurrence of a Force Majeure Event and to the extent such occurrence interferes with either party's performance of this Agreement, such party shall be excused from performance of its obligations (other than payment obligations) during the first three months of such interference, provided that such party promptly notifies the other party and uses best efforts to avoid or remove such causes of non performance as soon as possible.
Assignment / Sublicense

Except as otherwise expressly provided herein, the provisions of this Agreement shall inure to the benefit of and be binding upon, the successors and assigns of the Parties. The Partner shall not assign, sublicense or transfer its rights or obligations under this Agreement to any third person(s)/party without the prior written consent of BigRock.
Disclaimer

THE AFFILIATE WEBSITE, ASSOCIATED PRODUCT INTERFACES, BIGROCK SERVERS AND ANY OTHER SOFTWARE / API / SPECIFICATION / DOCUMENTATION / APPLICATION SERVICES IS PROVIDED ON "AS IS" AND "WHERE IS" BASIS AND WITHOUT ANY WARRANTY OF ANY KIND. BOTH PARTIES EXPRESSLY DISCLAIM ALL WARRANTIES AND / OR CONDITIONS, EXPRESS OR IMPLIED, INCLUDING, BUT NOT LIMITED TO, THE IMPLIED WARRANTIES AND CONDITIONS OF MERCHANTABILITY OR SATISFACTORY QUALITY AND FITNESS FOR A PARTICULAR PURPOSE AND NONINFRINGEMENT OF THIRD PARTY RIGHTS AND QUALITY/AVAILABILITY OF TECHNICAL SUPPORT. BOTH PARTIES ASSUME NO RESPONSIBILITY AND SHALL NOT BE LIABLE FOR ANY DAMAGES TO, THE USERS COMPUTER EQUIPMENT OR OTHER PROPERTY IN CONNECTION WITH THEIR ACCESS TO, USE OF THE AFFILIATE WEBSITE. WITHOUT LIMITING THE FOREGOING, BOTH PARTIES DO NOT REPRESENT, WARRANT OR GUARANTEE THAT (A) THE INFORMATION AVAILABLE ON OR THROUGH THE AFFILIATE WEBSITE, ASSOCIATED PRODUCT INTERFACES OR THEIR RESPECTIVE SERVERS WILL NOT CONTAIN MATERIAL WHICH SOME INDIVIDUALS MAY DEEM OBJECTIONABLE; OR (B) THE FUNCTIONS OR SERVICES PERFORMED BY EITHER PARTY WILL BE SECURE, TIMELY, UNINTERRUPTED OR ERROR-FREE OR THAT DEFECTS IN THE AFFILIATE WEBSITE & ASSOCIATED PRODUCT INTERFACES WILL BE CORRECTED; OR (C) THE SERVICE WILL MEET YOUR REQUIREMENTS OR EXPECTATIONS.

BOTH PARTIES MAKES NO REPRESENTATIONS OR WARRANTIES AS TO THE SUITABILITY OF THE INFORMATION, CONTENT, DATA, SERVICES, AVAILABLE OR WITH RESPECT TO THEIR LEGITIMACY, LEGALITY, VALIDITY, QUALITY, STABILITY, COMPLETENESS, ACCURACY OR RELIABILITY. BOTH PARTIES DO NOT ENDORSE, VERIFY OR OTHERWISE CERTIFY THE CONTENT OF ANY SUCH INFORMATION. SOME JURISDICTIONS DO NOT ALLOW THE WAIVER OF IMPLIED WARRANTIES, SO THE FOREGOING EXCLUSIONS, AS TO IMPLIED WARRANTIES, MAY NOT APPLY TO SUCH USER
Jurisdiction & Attorneys Fees

Governing Law & Jurisdiction - This Agreement shall be governed and interpreted by, and construed in accordance with the substantive laws of the Republic of India, without giving effect to the principles of conflict of laws thereunder. The courts at Mumbai, Maharashtra shall have exclusive jurisdiction over matters arising out of this Agreement.
Dispute Resolution & Arbitration:

Any and all claims, disputes, questions or controversies involving the parties arising out of or in connection with this Agreement, or the execution, interpretation, validity, performance, breach or termination hereof (collectively, Disputes) which cannot be finally resolved by the parties within 60 calendar days of the arising of a Dispute by amicable negotiation and conciliation shall be resolved by final and binding arbitration held in Mumbai in accordance with the (Indian) Arbitration and Conciliation Act, 1996, as amended (the Arbitration Act), to be conducted by a sole arbitrator to appointed by the parties, provided, however, that if the parties are unable to appoint the arbitrator by mutual consent within a period of 30 days of the dispute (or if the second arbitrator is not appointed within 15 days of the parties agreeing to have the matter referred to arbitration for settlement, the arbitrator shall be appointed by the Court in accordance with the Indian Arbitration & Conciliation Act, 1996. In connection with the arbitration proceedings, the parties hereby agree to cooperate in good faith with each other and the arbitral tribunal and to use their respective best efforts to respond promptly to any reasonable discovery demand made by such party and the arbitral tribunal.

All arbitration proceedings shall be conducted in the English language and the arbitral award (the Award) shall be rendered no later than six months from the commencement of the arbitration or as otherwise provided by the Arbitration Act, unless otherwise extended by the arbitral tribunal for no more than an additional six months for reasons that are just and equitable.

Except as otherwise required by law, the arbitration proceedings and the Award shall not be made public without the joint consent of the parties and they shall maintain the confidentiality of such proceedings and the Award.

The cost of the arbitration shall be borne by the parties in accordance with the applicable provisions stipulated in the Arbitration Act. Unless the Award provides for non-monetary remedies, any such Award shall be made and shall be promptly payable in Indian Rupees net of any tax or other deduction. The Award shall include interest from the date of any breach or other violation of this Agreement and the rate of such interest shall be specified by the arbitral tribunal and shall be calculated from the date of any such breach or other violation to the date when the Award is paid in full.

All notices and other communications by either party to the other or by the arbitral tribunal to either party in connection with the arbitration hereunder shall be in accordance with the provisions of Clause 22 of this Agreement.

Each party expressly understands and agrees that the Award shall be the final and binding remedy between them regarding any and all Disputes presented to the arbitral tribunal.
Miscellaneous

During the period of this Agreement, BigRock may, through mutual agreement, by execution of a written amendment, revise this Agreement. Any such revision or change will be binding and effective on both parties.

Each party shall be responsible for their own taxes and duties, whether international, national, state or local, however designated, which are levied or imposed or may be levied or imposed, with respect to this Agreement.

There are no representations, warranties, conditions or other agreements, express or implied, statutory or otherwise, between the Parties in connection with the subject matter of this Agreement, except as specifically set forth herein.

Survival: In the event of termination of this Agreement for any reason, Sections 1, 4, 6, 9, 10, 11, 12, 13, 14, 15, 16, 19, 20 and all Sections of Appendix A & Appendix B shall survive.

This Agreement does not provide and shall not be construed to provide third parties (i.e. non-parties to this Agreement), including any agent, customer and prospective customer with any remedy, claim, and cause of action or privilege against BigRock or Affiliate.

The Affiliate and BigRock and its Service Providers are independent contractors, and nothing in this Agreement will create any partnership, joint venture, agency, franchise, and sales representative or employment relationship between the parties. Partner will have no authority to make or accept any offers or representations on our, or our Service Providers behalf. Affiliate will not make any statement, whether on his website or otherwise, that reasonably would contradict anything in this Agreement.

Further Assurances: Each Party hereto shall execute and/or cause to be delivered to the other Party hereto such instruments and other documents, and shall take such other actions, as such other Party may reasonably request for the purpose of carrying out or evidencing any of the transactions contemplated / carried out, by / as a result of, this Agreement.

Construction: The Parties agree that any rule of construction to the effect that ambiguities are to be resolved against the drafting Party shall not be applied in the construction or interpretation of this Agreement.

Entire Agreement; Severability: This Agreement, which includes Appendix A and Appendix B, constitutes the entire agreement between the Parties concerning the subject matter hereof and supersedes any prior agreements, representations, statements, negotiations, understandings, proposals or undertakings, oral or written, with respect to the subject matter expressly set forth herein. If any provision of this Agreement shall be held to be illegal, invalid or unenforceable, each Party agrees that such provision shall be enforced to the maximum extent permissible so as to effect the intent of the Parties, and the validity, legality and enforceability of the remaining provisions of this Agreement shall not in any way be affected or impaired thereby. If necessary to effect the intent of the Parties, the Parties shall negotiate in good faith to amend this Agreement to replace the unenforceable language with enforceable language that reflects such intent as closely as possible.

The division of this Agreement into sections, subsections, appendices, and other subdivisions and the insertion of headings are for convenience of reference only and shall not affect or be used in the construction or interpretation of this Agreement.

This agreement may be executed in counterparts.

Language. All notices, designations, and specifications made under this Agreement shall be made in the English Language only.

Dates and Times. All dates and times relevant to this Agreement or its performance shall be computed based on the date and time observed in the city of the registered office of BigRock.

Affiliate will not violate any applicable law, ordinance, regulation or standard.

Affiliate agrees that in the course of any performance under this agreement or otherwise with respect to any dealings between the Affiliate and BigRock that the affiliate will not transmit any information which is or might be considered to be defamatory or libelous.

Affiliate agrees that in the course of any performance under this agreement or otherwise with respect to any dealings between Affiliate and BigRock- the Affiliate will not transmit any information which is or might be considered to be lewd, pornographic or obscene.
Notice

Any notice or other communication required or permitted to be delivered to BigRock under this Agreement shall be in writing or via email, unless otherwise specified, and shall be deemed properly delivered when delivered to
BigRock
Any communication delivered to either party under this Agreement shall be deemed to have been validly and effectively given, on the date of receiving such communication, if such date is a Business Day and such delivery was made prior to 17:30 hours local time, and otherwise on the next Business Day.
All Conditions have been read and agreed upon.
Signed
General Manager
For BigRock
APPENDIX 'A'
CONFIDENTIALITY
Either Party's use and disclosure of Confidential Information are subject to the following terms and conditions: -
With respect to the Confidential Information, both Parties agree that:

each Party shall treat as strictly confidential, and use all reasonable efforts, including implementing reasonable physical security measures and operating procedures, to preserve the secrecy and confidentiality of, all Confidential Information received from the other Party.

each Party shall make no disclosures whatsoever of any Confidential Information to others, provided however, that if the Party is a corporation, partnership, or similar entity, disclosure is permitted to their officers and employees who have a demonstrable need to know such Confidential Information, provided the Party shall advise such personnel of the confidential nature of the Confidential Information and of the procedures required to maintain the confidentiality thereof; and

each Party shall not modify or remove any confidentiality legends and/or copyright notices appearing on any Confidential Information of BigRock.
The obligations set forth in this Appendix shall be continuing, provided, however, that this Appendix imposes no obligation upon either Party with respect to information that:

is disclosed with the other Partys prior written approval; or

is or has entered the public domain in its integrated and aggregated form through no fault of the receiving party; or

is known by the receiving Party prior to the time of disclosure in its integrated and aggregated form; or

is independently developed by the receiving Party without use of the Confidential Information; or

is made generally available by the other Party without restriction on disclosure.
In the event either Party is required by law, regulation or court order to disclose any Confidential Information, the Party will promptly notify the other Party in writing prior to making any such disclosure in order to facilitate the other Party seeking a protective order or other appropriate remedy from the proper authority, at the disclosing Partys expense. Each Party agrees to cooperate with the other Party in seeking such order or other remedy. Each Party further agrees that if the other Party is not successful in precluding the requesting legal body from requiring the disclosure of the Confidential Information, it will furnish only that portion of the Confidential Information which is legally required.

In the event of any termination of this Agreement, all Confidential Information, including all copies, partial copies of Confidential Information, copied portions contained in derivative works in the each Partys possession shall be immediately returned to the other Party or destroyed.

In the event of any termination, all Confidential Information, including all copies, partial copies of Confidential Information, copied portions contained in derivative works pertaining to that Product in either Partys possession shall be immediately returned to the other Party or destroyed

Each Party shall provide full voluntary disclosure to the other Party of any and all unauthorized disclosures and/or unauthorized uses of any Confidential Information; and the obligations of this Appendix shall survive such termination and remain in full force and effect.

Each Parties duties under this Appendix shall expire five (5) years after the information is received or earlier, upon written agreement of the parties.
APPENDIX 'B'
COMMISSION SHARE
The commission earned on BigRock Products will be computed as defined in the below URL: http://www.bigrock.com/affiliate